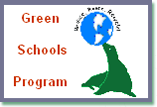 Mount Madonna School has been a proud member of the Green Schools Program for several years. As a Green/Waste Free School, we are constantly looking for ways to reduce the amount of trash we generate as a school and instead reuse and recycle many of the items we use on campus every day. (Did you know that Santa Cruz County generates more than one million pounds of trash everyday?)
Please help us to be a part of the solution by incorporating some of these ideas into your child's school day routine.
Pack a low waste lunch. The majority of a school's trash comes from students' lunches!

Pack your child's lunch in a reusable lunch bag/box with reusable containers. See our attached list of reusable lunch systems.
Try to buy snacks in large family-sized bags and repack them into reusable containers.
Pack a thermos or a reusable water bottle for beverage. If you use juice boxes please consider recyclable boxes over un-recyclable juice pouches (ex. Capri Suns).
Ask your child to bring everything home from their lunch so you can see what they're eating and what they're not eating so you can adjust proportions and reduce waste.

Make all school events low waste events- When planning a school/community event, providing snack for a class or a fundraiser, please keep in mind ways to make it a low waste event:

Use reusable or recyclable tableware, cups, and napkins. DON'T use Styrofoam. Each elementary classroom has a set of reusable tableware.
Serve items in bulk instead of individually wrapped (avoid juice boxes, individually canned drinks, small packaged items like string cheese or chips).
Set up a compost collection container that can be taken to the worm bins or compost after the event.
Set up recycling bins near all trash cans and make an announcement reminding people what's recyclable.
Sell food in recyclable containers or in reusable containers. Compostable plates and silverware can also be purchased from Coast Paper and Supply at 151 Josephine Street in Santa Cruz. Phone: 423-3350

Recycle. Most of what a school throws away (up to 68%) can be recycled! Become aware of what's recyclable – Here's a brief list:

all paper, cardboard, phone books
aluminum cans and foil, tin, steel, small scrap metal, aerosol cans
clear and colored glass
all plastics #1-7, gallon milk jugs, milk cartons, juice boxes (not Mylar pouches), and plastic bags
batteries (in a bag)

Compost. Our school collects all food scraps except meat (skunk, raccoon, etc. attractors).

Up to 33% of a school's trash can be leftover food. All paper and utensils sold in the snack bar are compostable but most often end up in the trash.
Think about starting a compost pile at your house to reinforce the process happening at school.

Use both sides! Rather than recycling paper that's been printed on one side, use the backside as scratch paper, art paper, etc.
Re-Use! If you have children's toys, clothes, books, and school supplies that your children can no longer use, donate to our school, or donate these used items to a local charity.
Thank you so much for considering these ideas for making our school a truly Green/Waste Free School.
For more information about reducing waste at home or at school feel free to email Stew Jenkins, Green Schools Education Coordinator, at wfs_AT_lifelab.org or Jessica at jessica.cambell_AT_mountmadonnaschool.org.
With Much Appreciation,
Jessica Cambell
Faculty, 5th Grade